Situational Challenges
1. Nothing to do after graduation
A shortage of day programs and appropriate job or volunteer opportunities is a major issue in many parts of Canada. Besides persistent advocacy and lobbying, some families have taken the initiative themselves, contributing their resources to hire someone to conduct a day program for their young people, or sharing the leadership themselves.
The ABLE Network - Introduction
Barb and Joan are parents of young women with intellectual disabilities. They describe how they came up with the idea of creating a program so that their daughters and others like them would have something to do during the daytime when they finished high school.
Download Transcript
2. Financial cost
The cost of programs and activities where people with intellectual disabilities can make friends is a serious obstacle for many families.
Some Suggestions:
Look for subsidized programs and for activities funded by service clubs such as Kiwanis or Rotary. Consult government social services, local access centres, and organizations such as your local Community Living Association.

Some faith communities may have programs with potential or be open to starting something, such as a Friendship Night geared towards building inter-community connections with people with disabilities.

Look for deals specifically for people with disabilities. Some examples are listed in the document below.

Raising money for activities can be a friendship opportunity as well. One new Circle of Friends decided they wanted to go to an amusement park but could not afford the trip. They had a car wash to pay for everyone's ticket and strengthened their new connections at the same time. Fund-raising for a charity can also be a good opportunity.

Brainstorm with other families to come up with low-cost activities. Attend free events put on by local faith or community groups.
3. "A rural setting complicates friendships. Communication and transportation needs make it challenging."
Although there are fewer formal programs, there will still be connection-forming possibilities. Rural communities often have a rich community life. At the same time, there are likely to be fewer potential friends the same age as your family member.
Some suggestions:
Volunteer together. Look into what would interest your young person—perhaps helping with a local festival, fair or sports event. Try to set up a task where someone else works with your son or daughter. Look for one person who seems able to connect with them.

Don't limit your sights to friends who are the same age as your family member. Other volunteers are the kind of people who could become friends. They may see themselves as helping you out at first, but in time hopefully they will start to grasp the gift for them in the relationship.

When considering what to attend or get involved in, assess options in terms of whether or not connections are likely to be formed there. Sustained participation and regular exposure to the same group of people as well as willingness to reach out and try to connect are key. For instance, attending a local dance or sports match once is probably not enough to find a friend.
Some comments from rural families:
You have to be willing to be the driver, even if it means going to get the friends and taking them home. Try to facilitate friendships through other parents.
JG, NL
In a small community, people look out for you and your family…in many situations we have had individuals put him under their wing, offer him opportunities…it's nice to see.
Shauna, MB
Plan fun activities at your home and other children will want to also engage and not even knowing they make a friendship connection with your child.
Janice, MB
When our young person does have friends over, it is very easy to find trail, and back roads to bike, hike, etc. Lots of outdoor activities!
JR, NB

If Necessary, Consider a Move for Your Young Adult
Since transitioning to a larger community and into a sheltered workshop, our daughter has made many friends and has been accepted by many within that community. About 10 years after the transition, and with help from the Abilities Council, she got a full-time job. Through that job she has made acquaintance with many people and is greeted by them on the street as well as in her workplace. She feels like she belongs,just like others, in her community. This is far, far from our expectations forher future, while she was growing up in our local community.
Helen, SK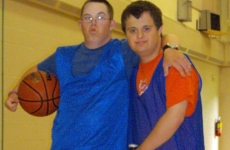 A Summer Recreation Program
Families know well that opportunities for physical exercise, playing sports and getting together with friends are sometimes difficult to find in a rural area,especially for young people who have intellectual disabilities. Sometimes families can take leadership in this area of recreation. For instance, through the generosity of local businesses and grants from the Recreation Department and Community HealthBoards, a nine-week summer recreation program has been running very successfully for many years in rural Cape Breton . The program was started by a local recreation department. It floundered and a parent (JosieMacEachern) revived it and kept it going until eventually L'Arche Cape Breton took it over. They continue to operate it. The emphasis of the program is to promote and model a healthy lifestyle, so exercise and physical activity is a large part of each day. The group also incorporates arts and crafts, games, boat tours, barbeques, music and much more into an interesting, active and fun-filled summer.