Dating & Sexuality
Dating and sexuality are major areas of concern for any young person, with or without a disability. Families can be inclined to avoid this subject with their children who have disabilities. Sexual impulses, infatuation with teen idols, and a desire for a boyfriend or girlfriend are perfectly natural, although young people may reach these stages of development at different ages. When they arise, romantic relationships can be regarded as an aspect of inclusion and can be celebrated!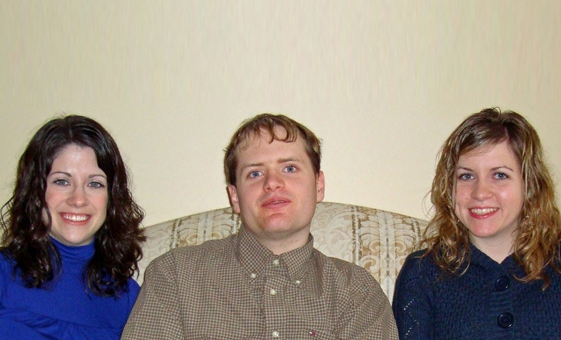 Incremental Steps are Okay
Marigold Thompson and others who were in Jonathan's class wanted Jonathan to come to the Junior High "Sock Hop." "There was no way Jonathan was going to dance!" his teacher remembers. But a way was found that he could be there comfortably: he volunteered with his mother at the welcome table. "Just getting to the dance was a good first step. It was enough…. He didn't have to dance," his teacher remarks. Slow, incremental steps are okay.
Obviously, every child deserves and needs to receive sexual education. Sexuality and degrees of intimacy in relationships are in the school curriculum from early years and are usually presented to students with intellectual disabilities in a manner intended to be accessible to them. Often families will ask the school particularly to tackle this if they think it needs attention. This can be a good starting point for many young people, but families do need to engage this topic. If you don't, others probably will and this may lead to inappropriate behaviour or exploitive relationships.
Learning responsibility:
How a person with a disability learns to take responsibility is usually different and may take more time.
If your young adult is likely to become sexually active, teach them about precautions in a practical way.

Help them to grasp that respect for themselves and the other person are fundamental. Encourage them to understand the values of your family and help them to decide on their own standards.
Resources: You may want to read over the pages on Dating and Sexuality in the Young Adults section of this website. Lower on this page is a document with some resources on dating, sexuality and marriage, including a link to information about the film "Monica and David"—a couple with Down Syndrome who got married.
Could my child marry?
Marriage used to be considered out of the question for people with an intellectual disabilities. Today, this is increasingly not the case because of the availability of birth control methods and because there are many more social supports that permit a marriage to be successful. Human rights legislation has also contributed to making marriage more possible.
On the Life-Long Relationships page of the Young Adults section, you will find the story of Joanne and Allan, a married couple, and in the Young Adults Dating section, the story of Francis and Linda, long-time boyfriend and girlfriend. You will find also a description of the quite lengthy process that Joanne and Allan went through in deciding to get married. It may not surprise you that many of those close to them thought that their marriage was not a good idea—that they would not be able to manage. But they have proved everyone wrong.
They would say that one of the keys to their success—besides their faithfulness to each other–is that they have always had good support from a local social service agency in the form of budgeting, counselling, finding subsidized housing, and good medical care. Before they were married they took precautions because they realized they would not be able to manage having a child. They have a group of friends of different backgrounds and abilities, and they have lovingly cared for two cats over their many years.
If it is about same sex friendship, it is important that parents support and help the relationship. If the relationship becomes an "in love" one, help is needed regarding the emotional management and the understanding of the respect of the other in the involvement of a more intimate relationship.
Teacher and involved parents, QC

Helping your Family Member Understand the Dating Process
Families play an important role in helping their family members with intellectual disabilities make choices in more intimate relationships. They also have a part to play in providing them with the tools to make these choices on their own and an understanding of appropriate ways to act depending on what develops in the relationship. One parent says of their son: "He does have a girlfriend and they date regularly, but he wants to move forward to the next step (move in together) and she is not ready to do so."
Beth, ON
Patrick Describes His First Romantic Relationship
Patrick talks about his first romantic relationship: how they met and what they liked to do together. Some months later they broke up but they stayed friends. This relationship brought a lot to Patrick because he felt respected.
Download Transcript