Transforming School and Society
A relationship with someone who has an intellectual disability can have a profoundly transformative influence on our lives. Accepted simply as we are, we are disarmed, and in such a relationship we can discover more deeply who we are and want to be. Often we discover an unexpected reciprocity–we find that we receive more than we give. The school milieu is where this transformation needs to begin, and teachers are the primary models for it.
Jean Vanier on Getting Involved
Jean Vanier, the founder of L'Arche, talks with high school students about creating an environment where they can meet and get to know people with intellectual disabilities. He responds to a student's question about dealing with bullies. He says we all need to discover that our real identity as people is an identity of love and not of power.
Download Transcript
Time to reflect is necessary if we are to notice and receive the often less tangible contributions that people who have intellectual disabilities make to our lives. Through reflection people integrate the experience of inner liberation characteristic of truly mutual and accepting relationships. A mental and emotional culture that allows space for these discoveries can be cultivated in a school community, and indeed, in an entire school board.
Try opening staff meetings and professional development times with some sharing of positive stories of relationships among students and between teachers and students with and without intellectual disabilities. Stories of personal insight and transformation nourish the moral imagination and can influence the values base of a school and a society. They invite people to think outside the socio-economic box of our culture. Work to eliminate language that conveys pity or emphasizes inability. Take a minute to brainstorm about the learning that these stories hold. This can release energy for creative problem solving and for imagining new ways to support and honour the contributions of people with disabilities—contributions that are often the true measure of happiness and a successful life.
It is a good discipline to look for the giftedness of people. When we let go of our usual productivity-oriented measuring systems, we can be surprised by the abilities of people whom we call disabled. Teachers name qualities such as sensitivity to interpersonal situations, depth of care for and interest in others, welcome, ready forgiveness, acceptance of others and of differences, resilience, creativity, a gift for celebration…
When teachers convey these attitudes and call forth student leaders to do the same, our society comes gradually to anticipate and see the gifts and the humanizing influence of people with disabilities. They will become valued citizens.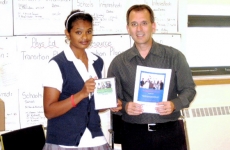 A Student Leader
Narmie told Kevin, one of her teachers, about how she and another friend befriended a girl with a disability in their high school. They went to sit with her at lunch. This girl always sat alone with her educational assistant. They were touched when the girl told them that this was the first time any of the students had spoken to her in the lunch room. Narmie was on the student council. She and her friend became leaders in inclusion in their school.

Creating Opportunities for Interaction
One of the parents has developed a community garden on the school property. It is maintained by students with differing ability and this offers some opportunities for interactions among the student body.
Educator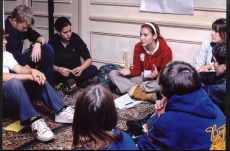 The Transformative Effect of Integrated Groups
One of my responsibilities is to be the resource teacher for the Catholic Student Leadership Impact Team (CSLIT). It advises the School Trustee and the Toronto Catholic District School Board about student issues. The CSLIT has adopted inclusion as a major focus. An impetus to this was when Jean Vanier spoke about belonging and inclusion to nearly 2000 grade 11 student leaders from the 31 Catholic Secondary Schools in the TCDSB and from 19 other Ontario Catholic Boards at the 2007 "When Faith Meets Pedagogy" Youth Forum. For this forum, each school selected a student with an intellectual disability to be among its representatives. These students were integrated into the break-out discussion groups. The student group leaders had been trained in inclusion. When students can have even a short-term experience of community in which each person has a place and can contribute, it better helps in their formation as leaders who are attempting to have a positive impact in their school communities.
Since then, a formal partnership has been established between L'Arche and the CSLIT. Many students now attend retreats at the local L'Arche communities and some volunteer. Most importantly, this intentional focus on full inclusion has helped to change the culture around student leadership events so that students of all abilities are welcomed. The Camp Olympia leadership weekends are very popular with student leaders at the TCDSB. These weekends are always made better when students of different intellectual abilities are among the participants.
Greg Rogers, Coordinator of Student Leadership, Staff Development Dept., TCDSB