Welcome!
Welcome! We hope you will find some ideas and encouragement here to support your students with and without disabilities to learn to relate to one another. Some of these relationships may grow into friendships that last well beyond school years. This can be one of the most significant gifts you give your students.This section does not pretend to be a comprehensive resource on inclusion but, besides the content we provide, you will find some documents with links that may be helpful.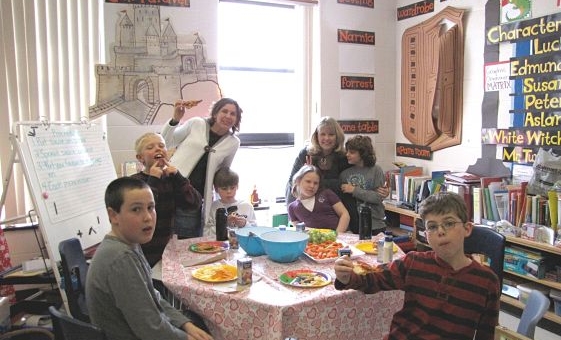 The Classroom as a Community of Belonging
I strongly believe that all children need to understand the power of what it means to "belong" in a classroom, in their community and the world. I teach my grade 8 integrated class about belonging by using experiential activities that develop trust, empathy, and teamwork. I try to instill in the students the importance of being grateful and how we all contribute to the well being of each other in our class and around the world. Last year we helped to build a HIV/AIDS medical clinic in Uganda. Students also create journals on belonging which include personal reflections, writing a recipe for belonging, media literacy reflections based on a variety of movies that we have watched (eg. Radio,Because of Winn Dixie) and response questions from the film "Belonging:The Search for Acceptance". This powerful film, about Jean Vanier's vision of a world where everyone belongs, is highly engaging and promotes higher order thinking in my students. It broadens our discussion to talk about refugees, recent immigrants, and people who suffer exclusion of one kind or another.
Laurie Brownlee (back left), Teacher, York Region School Board, ON
Throughout, you will find stories, comments and suggestions from educators from across Canada who responded to our survey. You will also find some good practices or creative initiatives that may inspire you and a selection of the many helpful resources available to teachers. If you care to share your own experience or can add ideas and suggest other good initiatives and resources, please contribute to the Forum on this website.
We have a kitchen project to prepare the snack offered to all the students. The young person who does this is seen as a star chef!
Educator
Good Practices in Action
This part of the website highlights just a few examples of the many effective programs across Canada. Some are national, some locally based. We offer these hoping they will inspire other good programming.
Find Out About These Programs
Getting Involved
This section is for people who might like to become friends with someone who has an intellectual disability. You will find suggestions and inspiring stories about the value of such friendships.
Getting Involved