Plans that Work
Making plans that work is an important skill. There are several things you need to think about when making plans. It is good to use a calendar and a checklist. Good plans are necessary for successful get-togethers. Poor planning can lead to disappointment for both you and your friend. Poor planning can even lead to break-ups between friends.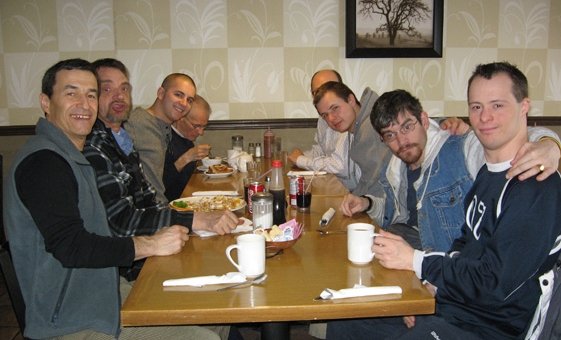 Going Out as a Group
This group of friends goes out for Saturday brunch each week. Going out in a group is different from going out with only one other person. Each of them knew only one or two others in the group when they first started to go out, but they have all gradually become friends. They joke with each other a lot, and they all get along. Sometimes they invite a new person to join them. They have been doing this for years. Brunch is one of the best parts of their week!
Listen
When making plans…
Here are some questions to ask yourself before going out somewhere. They might be good questions to ask the friend that you are going with too.
When are you getting together? Check your calendar. Make sure you do not already have plans for that day and time. Be sure to add your new plan to your calendar

Where are you going? How will you get there? Make sure you have a way to get there. We talk about this more below in the section on transportation.

Is the place you are going accessible for both you and your friend? Is the activity you are doing accessible as well? Call the place if you are not sure. We talk about this more below in the section on accessibility.

How much money will you need to take?

Do you need certain clothes? Do you need to take any equipment or medication with you?

Who else is going? Will it just be you and your friend? Do you want to invite someone else? Talk it over with your friend before you invite anyone else.

Have you set up an exact time and place to meet up?

Do you have each other's contact information? This is in case you need to change the plan or you can not find each other.

Have you reviewed the plan with your friend? Doing this the day before is a good idea.

Remembering the Details
Sean loves to go out with friends. But for some reason something always seemed to go wrong! Sean would forget the time. There would be a misunderstanding about the meeting place. The activity was not accessible for everyone participating. Finally, Sean and his friends made a list of reminders. It listed questions Sean needed to answer when making plans. Now whenever he invites people out he gives a lot more details. Sean's plans work a lot better now!
Listen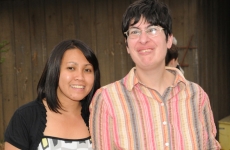 Know What You Like
Cathy and Nancy are friends. They both like music. They love singing. They wanted to go to a musical event together. They thought about a movie or a music concert. Nancy has a lot of trouble seeing unless she is very close to something. Nancy knew that she would have trouble seeing the movie screen. She explained this to Cathy. They decided to choose a concert. Nancy had a nice time because she knew what she would enjoy and she said this. They both had fun because they picked something they would both enjoy.
Listen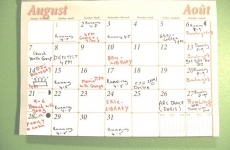 Adam Uses a Calendar
Adam plans ahead using a calendar. Before each month starts, he puts all his regular activities on his calendar. These are things like bowling, visiting the library, and running practice for Special Olympics. He puts in any medical appointments he has coming up. He puts events that he knows he will be attending. Then he can see where there are spaces to make other plans. He uses these spaces when he plans get-togethers with friends. If he does not know the word for something he draws a picture on the calendar box to remind himself.
Listen
Activity/Information Sheets