Accessibility
Do you or your friend use a wheelchair? It is important to find out if where you want to go is accessible. This does not means just having ramps or no stairs. It also means having wide enough doorways, automatic doors, and accessible washrooms. If you are going to a theatre it means having accessible seating. Or you may have other needs–for special hearing or visual aids, or for a certain diet.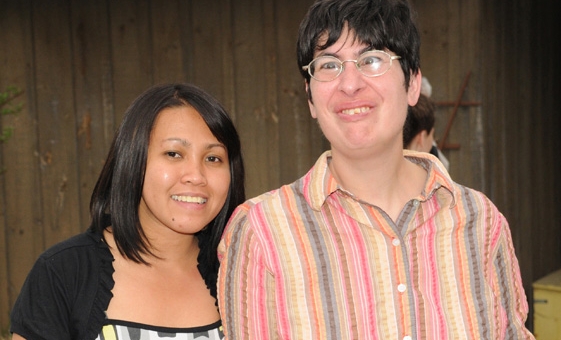 Good Friends Help with Accessibility
Nancy and Cathy enjoy going for walks. Nancy has limited eyesight. When she and Cathy go on outings together she takes Cathy's arm. She does this especially where the ground is uneven or where there are steps. Cathy watches ahead for obstacles. Nancy has to think about accessibility when making plans. But having Cathy along makes it easier. Nancy knows she can count on Cathy.
Listen
Questions to ask before you make plans:
what supports do you need?

what supports are needed by your friend or others in your group?

is the place you are going accessible for all of you?

do you need accessible transit to get there?

is accessible transit available when you want to go?
If the place you are going is not accessible, you need to come up with a different plan. Be creative! There are lots of accessible alternatives. BUT don't be afraid to call the place that is not accessible. Explain to them what the problem is. Explain how they are excluding you from participating. You can help them become more accessible.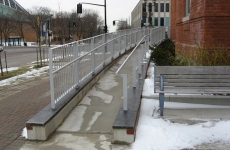 Non-Accessible Means No Fun
Hosein loves history. He and some friends decided to go to the local museum. Hosein called the Wheel Transit service and arranged for a van. He asked the driver to pick him up after 4 hours. When Hosein tried to get into the museum he found out that it was not wheelchair accessible. He could not get in. He had to wait for 4 hours without being able to look around the museum. Hosein decided to check out accessibility the next time he made plans!
Listen
Rebecca and Heryka - ReVeAL Dance Creation
Heryka describes how dancing with Rebecca has inspired her to work with another friend to create other programs in dance for young people with and without disabilities. They have set up a program called ReVeAL Dance Creation.
Download Transcript