What to Talk About
When you first meet someone, conversation can be a bit hard. This section of the website gives you some ideas to make conversation easier. You will talk about different things with different people. It depends on how well you know them. Some people do not talk much. That's okay. You can still be friends with them. Ask someone you trust to help you know what is not so good to talk about.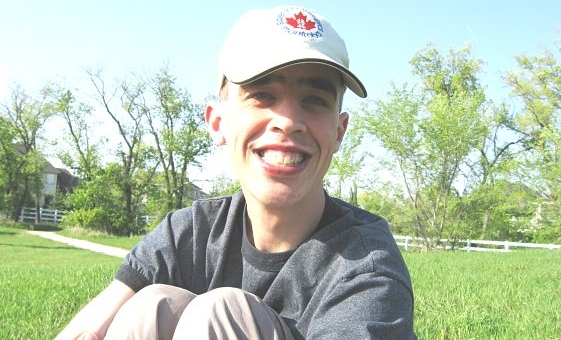 A Photo Album can be a Conversation-Starter
Adam brings his photo album along when he meets new people. This can help people get to know him. The pictures help them to find things to talk about. His photo album has pictures of his trips to the Special Olympics in China. He competes in both running and in snowshoeing. He shares his memories and pictures with visitors.
Listen
If you or the other person do not talk much, you may want to do an activity together. It is good to know some activities you can share without talking. You will still be communicating and building your friendship. You will do this by your friendliness.
Some good friends enjoy playing a game or watching a DVD together. (Examples of games could be a card game like Crazy 8s, a board game or a computer game.)
Another idea is to get together to play a sport or outdoor activity. Games with a ball or frisbee can be fun.
Conversation Suggestions
Introduce yourself. Maybe share something about yourself. This will make you easier to remember. It will also help people feel more comfortable around you.

If they forget to tell you their name, ask! Listen carefully to their name and repeat it. Try to remember it. People like it when others remember their names.

Ask about the other person. There are lots of things you can ask about. You can ask about where they live or work or their hobbies.

Talk about a favourite interest that you have. For example, if you like NHL hockey, ask them if they have a favourite team. A lot of people like sports.

Think about where you met this person. Talk about that. You probably share a common interest that has to do with that place.

Talk about pets. Most people like animals. A lot of people like to talk about their pets.

Talk about a movie you like. Ask if they have seen it. Say what you liked about it. Ask them if they liked it.
Things to Remember:
Don't ask a lot of personal questions. This is not polite. There are some things people don't like to talk about when they first meet someone. Later, if you do become friends, you will learn more about each other. This takes time. It's important to respect this.

Don't share too much about yourself right away. Some things are personal. People get uncomfortable when you share personal information right away. Ask a support person if you are not sure.
Talking about Your Disability:
Sometimes people will have never met a person with a disability before. They might not know what to say or how to act. It can help to explain your disability. You can help others feel more comfortable.
Explain what you can do and what you cannot do. Being able to explain your disability to others will help them see that it is no big deal.
Examples:
Maybe you have a condition like epilepsy. You might explain that you may have a seizure sometimes. Tell them how to support you if you do have a seizure. Explain that you will be okay.

Maybe you have diabetes and you need to eat or take medication at certain times. If you are planning a get-together it would be important for the other person to know this.

Maybe you use a wheelchair. The other person may want to know if they should help you. You can tell them how to do this. Tell them if you need a wheelchair van to get around.

Mikael Explains His Disability
Mikael has epilepsy. Most of the time no one would know this. But he knows that when he is excited he can sometimes have a seizure, even though he takes medication. He was preparing to go out with a group of new friends to an NBA game. He decided he should explain that he has epilepsy to someone in the group–just in case. He chose one of the men who would be able to help him if he did have a seizure. He explained what might happen and the help he might need.
Listen

"If You Don't Understand, Ask!"
Danielle and Kristen met in high school. At first, Kristen felt awkward because she could not understand what Danielle was saying. She felt embarrassed. She did not want to ask her to repeat herself. But Kristen gave Danielle the wrong answer to a simple question. Danielle knew right away what the problem was. She told Kristen, "You don't need to pretend that you understand me if you really don't! I don't mind repeating what I say, even several times. Please just ask me!" After that, Danielle and Kristen's friendship grew stronger.
Listen
Activity/Information Sheets
Hints from young people:
I participate in gatherings, and I talk so as to get to know the other people.
Survey respondent, QC
The best thing is to be yourself ! Always show your true face to other people. As for me, I choose my friends and when they need me to help them (with school work, or as a volunteer) I willingly help them, because I love to help others.
Survey respondent, QC
Meeting new people can teach you about yourself. I got to know a lot of different people and learned new things about myself as well as others. I have grown as a person.
Dayna, Survey respondent, ON