Public vs. Private
Know the difference between public and private. Some of the things you might want to do with your boyfriend or girlfriend are not ok for public areas. There is a difference between what is ok to do or talk about in public and what is for when you are in a private space. Understanding this is part of respecting yourself and respecting others.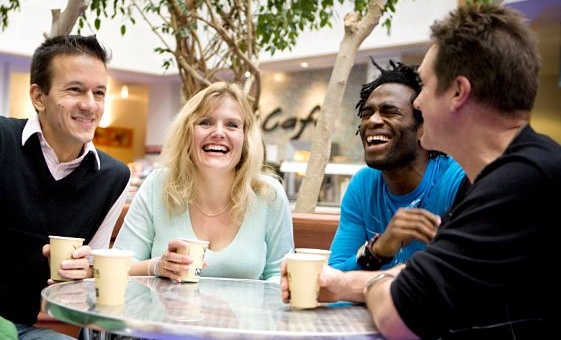 Respecting Friends' Comfort Levels
Rick and Chris were dating. Katie and Nick were dating too. Rick and Chris liked to kiss. Sometimes they kissed a lot when they went out with Katie and Nick. Sometimes Katie and Nick talked about very personal aspects of their relationship. They talked about things Rick and Chris did not want to know. Everybody was uncomfortable! Eventually, Rick and Chris asked Katie and Nick to talk about those things when they were not around. Katie and Nick asked Rick and Chris to save kissing for when they were alone. They all learned to respect what their friends were comfortable with. They all enjoy going out together a lot more now!
Listen
Think about what you are doing. Will it make other people uncomfortable? Look around and see if other couples are doing this. If not, it is probably not something you should do in a public place. For instance, maybe you want to kiss each other. Are other couples kissing where you are? If not, you probably should not do it. Maybe people give each other a quick kiss but not a long kiss. Do what they are doing – if you want to. A lot of couples say goodbye with a quick kiss in public—like at a bus stop.
Public vs. Private
Try the game below with someone you trust to help you figure out what is ok for public areas.
Click on the "Start Prezi" button in the middle of the game.
Click on the box in the far right corner under the game if you want full screen.
Move through the game by clicking on the arrow in the centre of the toolbar.
Answer questions by clicking on the screen. Then click on the arrow.
When you are done the game, press the ESC key on your keyboard to exit Full-screen.

Planning Ahead Before Going to a Party
Jeanne was going to a party at Sally's apartment. She knew Sally sometimes had sex with her boyfriend. Jeanne was excited about the party. Maybe she would meet a future boyfriend! But she also felt a bit scared. She did not want to be pressured to have sex with a boy she had just met. She was afraid this could happen. She talked with her support worker. They did a role play. Jeanne practiced what she would say to a boy about how she would like a friendship to grow. She took extra money for a taxi in case she wanted to leave.
Listen