Teach Social Skills
Interpersonal skills are important to all your students and are likely already a subtext in all that you do in the classroom and, if there is a separate life skills class, in that setting as well. Young people with intellectual disabilities have usually been at a disadvantage in picking up social skills and may need direct coaching. Don't single them out in class but quietly ensure they get this help. It may be the most important thing you do for them. Friendship skills are an important aspect of social skills.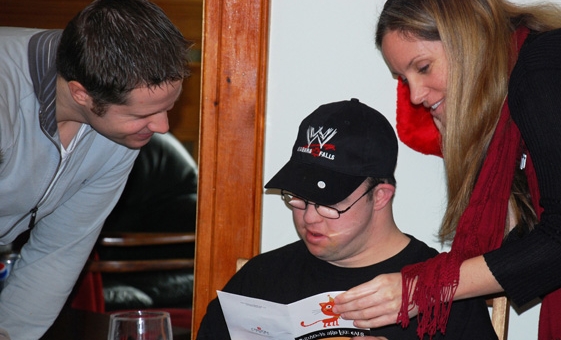 Role Playing Helps Young People Grasp Social Skills
What do other young people do and talk about with their friends? How do they hang out together? What is their lingo? What does their friendship look like? Some of the subtleties of the teen world can really only be passed on by peers. Teachers can bring together young people with and without disabilities to help teach these skills. Students from a drama class, for instance, can enjoy the challenge of acting out various scenarios with students who have disabilities, and with the teacher's coaching, much learning can take place. Role plays are a way that our son Dan learns and remembers. Simply describing how to act in various situations is not enough for many young people who have a disability, but having to interact and problem-solve with another student or in a group can be a memorable and fun experience.
Kathy Coleman, Parent, Ontario
Teach how to be a friend.
Both parents and educators who responded to our online surveys emphasized the need to teach young people with disabilities about friendship. They commented that individuals with intellectual disabilities seem to have much more difficulty acquiring friendship skills naturally - quite likely because from an early age they tend to have fewer opportunities to interact with peers.
All young people long to have friends and to be accepted and valued by their peers. The skills of friendship can be taught and rehearsed. Use role plays to teach listening and conversation skills. Ask peer leaders to share about what they do and talk about with their friends and invite them to help with role playing.
If the student with a disability has difficulty speaking, teach a few student leaders how to communicate with them. They may use a letter board for instance. Or simply eye contact. Emphasize activities friends do together that do not require speech.
We have learned that social skill building is just as, if not more important than, academic training…it is a necessary and crucial tool needed to get through life. Confidence building, conversation building, understanding, etc…without these tools an individual is lost.
Shauna, MB
One parent described how her daughter began to be excluded around grade 5 when the other children began to use conversation and texting more in their friendships. Her daughter discovered that she could build friendships around shared activities—sports, board and card game and video games, watching movies.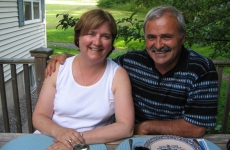 Parents Help Their Young Adult Make Friends
Debbie, mother of Lisa, describes how Lisa learned to play cards very well because card-playing was a favourite pastime of her mom and dad and Lisa's siblings when they were growing up. Now, playing cards is one way that Lisa can socialize with other young adults. Debbie and Gus have also encouraged their daughter's involvement at the local university gym and in sports. These again are interests that almost all young people share.
Listen
The entire Young Adults section of this website is devoted to helping youth acquire these types of skills.